Free Executive Brief Reveals…
The Top 10 Ways Hackers Get Around Your Firewall And Anti-Virus To Rob You Blind
Cybercrime is at an all-time high, and hackers are setting their sights on small and medium businesses who are "low hanging fruit." Don't be their next victim! This report reveals the most common ways that hackers get in and how to protect yourself today.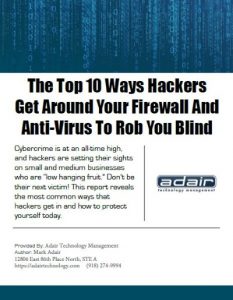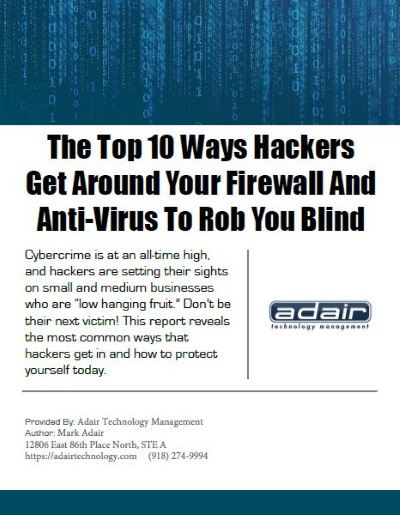 In this free executive brief, we cover:
1.
The #1 threat to your business that even the BEST firewalls and anti-virus software can't protect against (and what you need to do now to remedy it).
2.
A common misconception about employee devices on your office network and exactly what you need to do now to shut this down immediately.
3.
The shocking facts about why small business are the #1 target of cybercriminals - more than half of the reported cyber attacks are focused on small business for this one main reason that is easily fixed.
4.
How to keep your network secure with the proliferation of mobile devices, cloud applications, e-mail, and social media sites connecting to your computer network.
To Download Your Free Copy Today,
Simply Fill Out The Form on This Page
Or Give Us A Call At (918) 376-7010

Complete This Form To
Get Instant Access
"Not only was Adair Technology there when I needed them but they were quick to identify the problem."
Adair Technology took the time to explain the problem in a way that was easy to understand. They offered different solutions and helped me pick the one that made the most sense for my business.
James Carl